Scented Candles by Wick-edly Sent
Scented candles that are hand poured soy candles burn cleaner.  Scented with high quality fragrance oils or essential oils that smell great in our store, which is called the "cold throw", and smell much better when they are lit, which is often referred to the "hot throw".  The throw is the way scented candles throw their scent, or how the scent travels throughout your room.  This is a simple lesson for jar candles that is often not shared to the consumer.  Some scented candles are stronger than others, depending on the fragrance itself.  Example:  White Tea Soy Candles are lighter than our Vanilla Scented Candles.
Scented Soy Candles Now Leading Wax In Scented Candles
Scented soy candles have revolutionized the candle industry forever, making it an easy choice for smart candle buyers.  We use 100%  soy wax for our jar candles. The more you burn our candles the more you'll see the difference. The top three reasons to burn soy wax scented candles are:
Soy candles burn cleaner, less black soot
It's better for the environment
Burns longer
New Location
We're moving our location to Farmington, NY. Our new address is 1378 Beaver Creek Road, Farmington, NY 14425. Please visit our new location beginning March 15th.
Scent of the Month: Clean Cotton
Save 25% off candles, soap, bath and body.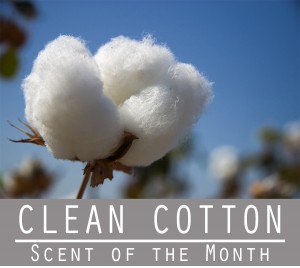 We also use a lead free low smoke zinc wick that ensures a clean burn that will satisfy even the most difficult candle enthusiast.  These make great gifts for anyone.  Scents are tested to make sure they work well with soy because there has to be a great harmony.  Not all scented oils work well with candles.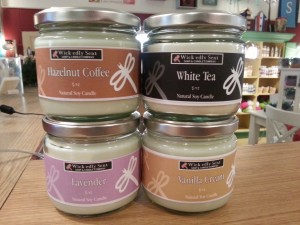 We have several different scents to choose from.  Scented oils are chosen based on originality, classical, and seasonal.  Mixing scents is something we love doing, however, we never forget classic scents that have been favorites for generations.  We recommend different scented candles for different rooms.  Best sellers include Lavender Scented Candles, which are great for living room.  Floral scents such as Lilac Soy Candles are great for bedrooms, and bathrooms.  Sandalwood Soy Candles works great in a living room, and Lemon Zest is fresh for your kitchen. Kitchen Candles include fruits and herb mixes, such as Lavender Basil, and Orange Clove.
Join the mailing list to get notified of new scented candles and scents.  You will also receive a coupon that you can use online or bring in person.
Our blog will keep you updated on new scents, and store information.
Quick Tips for burning our scented soy candles:
Trim candles wick 1/4 inch before lighting every time so there is no high flame.
Keep candles away from drafts
Burn  jar candles 3 to 4 hours at a time to ensure evenness.