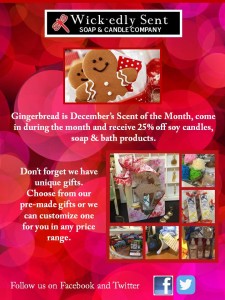 Wick-edly Sent has unique gifts for men, women & kids.
Choose from our pre-made gift sets or have us custom make one for you.
We also have a variety of teacher's gifts & Secret Santa bags ready to go.
Holiday Store Hours:
Monday: 10 am – 5 pm
Tuesday – Friday: 10 am – 6pm
Saturday: 10 am – 4pm
Sunday: Closed
*If the flag is flying outside these hours come on in.
Shop online: www.escentedcandle.com
Follow us on Facebook and Twitter to see new products as they are created.