Welcome May!
It's hard to believe May is already here. The change of seasons is celebrated here in the Finger Lakes, and May, we have an extra reason to celebrate. May is Lilac month! People in the Finger Lakes area are Lilac crazy, and for good reason. This delicate flower blooms with much promise and is bursting with its unmistakable scent. We encourage you to sample our Lilac and discover it's the best around.
Scent of the Month: Lilac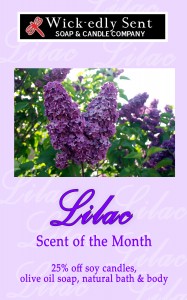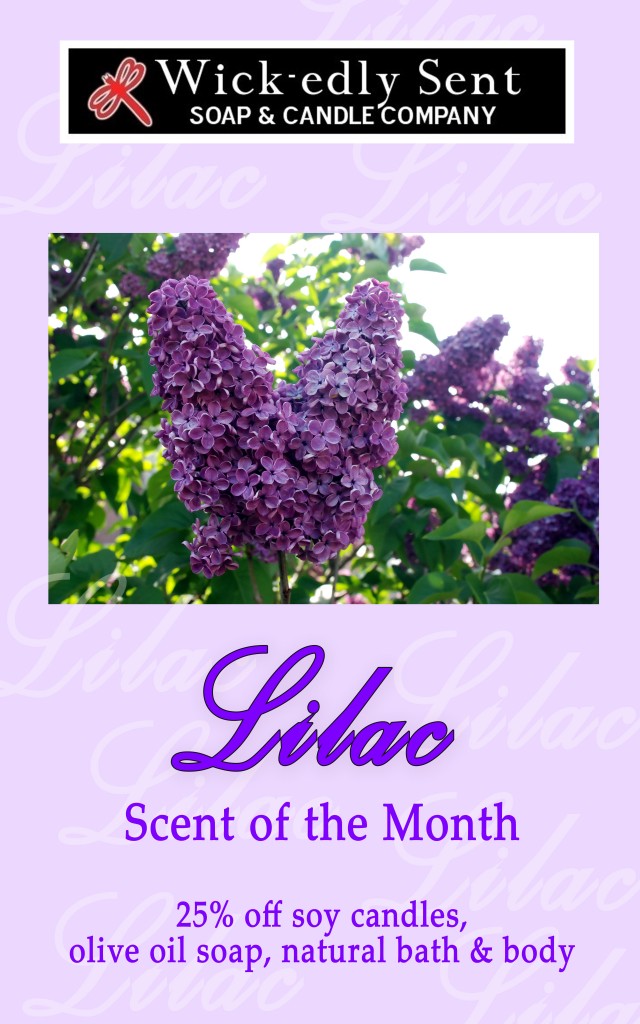 Enjoy our best selling floral, Lilac! Now at 25% off candles, soap, and bath products, including lotions! Each May Lilac is celebrated at the Rochester's Lilac Festival. This is the best time to see real lilacs in the park, but you can enjoy the magnificent scent of Lilac anytime during the year from us! Start shopping now for your lilac scented products.
New Wick-edly Sent Soap of the Month Club:
Have you received your Wick-edly Clean Club Rewards Card? Come in Friday & Saturday and receive 2 punches for every bar of soap purchased. Receive a free bar of soap and free gift after 12 punches.
Coupon: "mayblooms"
Save 10% off your order immediately at checkout online, or just announce it in person when you visit our shop. This coupon may not be used with other promotions or specials, such as Scent of the Month, which is already 10% off.
Mother's Day Gifts
Think of us for all your mother's day gifts, including gift sets, soaps, and gift baskets. We have all her favorite scents, including lavender, white tea, honeysuckle jasmine, and more.
Free Candle Winner:
Congratulations to Monica Traverse who was hand picked to win a free candle!  Please contact us to arrange pick up or delivery of your free candle. You can call us at 585-360-7911. Thanks for entering everyone, if you signed up for our newsletter you are already in our contest for a free candle of the month.
We hope to see or hear from you soon!