Fall is here and besides having a bit of Indian Summer, the season's fantastic colors are here. October is a great month to stock up on candles. For our scent of the month, pumpkin is in. We are also gearing up for the holidays with gift baskets.
Join Us at Harringtons Produce Autumn Fest!
Tomorrow we will be showcasing our products at Harringtons in Batavia, NY!  Join us Saturday, October 4th, 10am-6. AUTUMN FESTIVAL
Harrington's Produce Market
5282 Clinton St (Rt. 33)
Come enjoy the day at our market with family and friends! Vendors and guest include: First Light Farm and Creamery, Baked Goods from Deb's Bakery, Wick-edly Sent Soap and Candle Company, Craft Vendors, Wine Tasting, Face Painting, Kettle Corn, Ms B Haven Alpaca Farm, Vet Tech, Petting Zoo, F. Oliver's Oils & Vinegars, And don't forget we will be grilling out hot dogs and hamburgers and we will have live music!
Scent of the Month: Harvest Pumpkin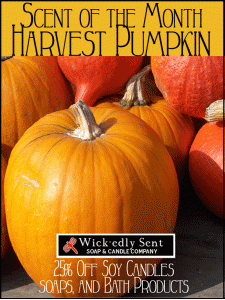 It's pumpkin harvest season, and Wick-edly Sent is serving up an incredible pumpkin scent: Harvest Pumpkin. Enjoy this sweet autumn pumpkin with a perfect touch of cinnamon and clove. Shop now and save 25% off soy candles, olive oil soap, and natural bath products.
Gift Basket Season is Here
We can create custom gift baskets for your special event or corporate function. Just give us a budget and let us do our magic.
New Farm Slabs For Soaps and Candles
Just in! These beautiful stone slabs are are hand-gathered from New England Farms. The back of the slabs are stamped with the farm they were gathered from and you can read about them online. Wick-edly Sent currently has the 6″ slabs and they are food safe. Also the 4″ slabs which make beautiful soap dishes. They are simply a must see! You can use these slabs as soap dishes, candle holders, or cheese plates. Use your imagination. Only available in store.
Online Coupon: OCT2014
Use this special coupon in person, or at our online checkout to save 10% immediate. Does not include Scent of the Month items, which are already 25% off.
Free Candle Winner of the Month: Jocelyn Stone
Thank for entering our Free Candle Winner of the Month Jocelyn. Contact us at 585-360-7911 to claim your free candle and arrange deliver or pick up.