Happy July everyone! Hope everyone had a great Independence Day. July is a wonderful time to spend outdoors, vacations are abound, sports are everywhere, and spending time with the family is cherished. At Wick-edly Sent we hope your summer is going well; we look forward to seeing you at our shop in Farmington, and hope you can take advantage of some of the specials we have this month.
Scent of the Month: Blueberry
There's nothing like just picked sweet, juicy blueberry. You'll agree once you smell the delicious temptation of fresh blueberry. Comes in soy candles, olive oil soap, body wash and body lotion with shea butter. Shop now to save 25%.
New Sea Salt Bars!
This is our new exfoliating European sea salt soap! Still made with olive oil, but sea salt is added, great for the summer.

Some benefits of sea salt soap are:
-Deep cleaning
-Refresh skin, remove old skin
-Great for after work out, running, etc
-Recommend for acne, and perspiration

Comes in four wonderful scents: Lime Cooler, Day at the Spa, Himalayan Bamboo, and Sea Glass.
Each 4.8 oz bar is only $6.50. For more info or to shop visit the Sea Salt Soap shopping page.
Now Available Online: Natural Bug Repellent Spray: Wick-edly Bugged!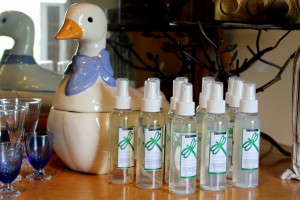 Keep fresh and smell great while keeping mosquitos and other insects away with Wick-edly Bugged, our natural bug repellent spray. Available now online. We already have many fans who love this and summer is the time to stock up. Made with essential oils of lavender, citronella, and peppermint, which repel bugs naturally without harmful chemicals.
Coupon: Julysparks
Enter the code: "julysparks" without quotes online or just say it in person to save 10% your total order. Not valid with Scent of the Month or other specials.
Candle Winner of the Month: Holly Bond
Congratulations to Holly Bond! You are our free candle winner for this month! Call us Holly at 585-360-7911 to arrange pick up or free delivery for your candle. Want to win a free candle? Enter your name and email to get our e-newsletter and automatically be entered.