Summer is here! Well, maybe not officially yet, but Wick-edly Sent is very excited about it. We had an awesome spring at our new location, 1378 Beaver Creek Road, Farmington, NY 14425. The new location is right across Finger Lakes Gaming and Racetrack. We are meeting new customers and seeing our regulars. If you haven't had a chance yet, stop by and visit us.
We recently had our Grand Re-Opening with a ribbon cutting from the Canandaigua Chamber of Commerce. Thank you all for coming to our celebration party as well.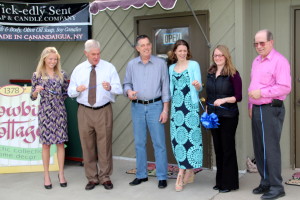 New Website Facelift!
We've redesigned our website with a new look and feel! Please visit us at http://escentedcandle.com and take a look. We are still in the process of adding more pages and info, but it is fully functionable for viewing and ordering.
Father's Day Gifts
Father's Day is this Sunday, June 14th, and we have tons of gifts for Dad, including masculine soaps, such as Wild Man, Bay Rum, Vanilla Almond Nutmeg, and More
Scent of the Month: Lime Cooler, 25% Off
It's time to revitalize with our new robust scent. A fresh burst of lime will feel great on your skin this summer; its crisp citrus scent has a cool finish. Start shopping now to save 25% off the regular price.
Free Candle Winner: Evelyn Cooley
Congratulations to Evelyn! You've won a free candle. Call us at 585-360-1788 to arrange pick up or free delivery. As always, if you've already signed up for our newsletter, you already are entered for our free candle winner of the month.
Online Coupon: junesavings
Just enter "junesavings" without the quotes to save instantly on purchase online, or just announce it the next time you're in our shop to save 10% instantly. Coupon not valid with other specials, promotions, or Scent of the Month, which is already 25% off.