It's Black Friday again. That means we thank all our loyal fans and welcome new ones with big savings! We are starting our Mega Black Friday Sale at midnight, Friday, November 29th, online, and in person from 6-9 am in our store in Canandaigua.
Buy One Get One Free Soy Candles
Our 100% soy candles are buy one get one free, starting at midnight online on Black Friday, then in our store from 6-9 am.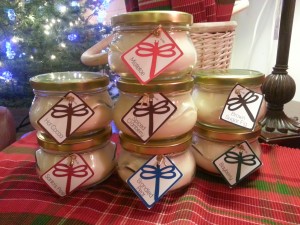 Enjoy our holiday soy candles, including bayberry, cranberry spice, hot cocoa, and other festive scents. Regular price is 15.99, but they will be buy one get one free. Regular scented soy candles will be buy one get one free as well.
Additionally, 20 % off everything else in store
During Black Friday, enjoy 20% off everything else as well (not including scent of the month, or other specials or promotions). This extra discount also applies to our new bath and body gift sets, a great gift for only $20.00 during Black Friday. Gift sets include natural body wash, body lotion, and a big bar of our olive oil soap.
Remember our Black Friday Sale is:
Online: 12am Midnight, Friday, November 29th to 9am (9hrs)
In Store: 6am-9am (3hrs ONLY)
Happy Thanksgiving everyone! We hope to hear from you soon, and don't forget to share this Black Friday Sale with your friends.
Wick-edly Sent Soap and Candle Company
94 South Main Street
Canandaigua, NY 14424
585-360-7911