It is that time of year again, and you've been invited to a Thanksgiving celebration. Though your first thought may be of how much you'll enjoy the company of others and delicious food, you will likely find yourself wondering what would be appropriate as a gift for your host. While not always considered necessary, a Thanksgiving gift for your host is a wonderful gesture, showing that you appreciate the trouble they have gone to so that all the guests can enjoy themselves. Consider giving something memorable and unexpected – cranberry spice scented candles.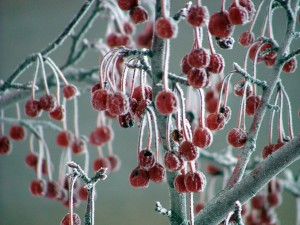 Thanksgiving Gifts are a Tradition
Traditionally, if gifts are given at all on Thanksgiving, wine or food items are offered to hosts in gratitude. While the gesture is very nice, the reality is that whoever hosts the dinner will be having leftovers for a week, and has already selected wine to go with the food. Decorations, on the other hand, may have been left by the wayside in all the holiday planning. Candles can be used as a decorative elements either on the centerpiece or throughout the house. They can also be easily dressed up with ribbons, glitter, paper cut-outs and fake flowers for a beautiful, classic decoration which takes up very little space. If there is a free ledge somewhere, then a candle can dress it up for the holidays.
Is Cranberry Spice a Good Choice for Scented Candles?
Scented is the best choice for a gift when it comes to candles, but the choice of scent is very important. Scents affect the ability of humans to taste food – so a clashing scent from a candle could make even an expertly cooked meal taste off. For a number of reasons, cranberry spice is an excellent choice for Thanksgiving. Consider the foods included in the traditional meal – turkey, cranberry, potatoes, stuffing, and pumpkin pie. Cranberry and spice are either present in all these food, or pair very well with them. The extra scent from a cranberry spice candle will blend perfectly with a Thanksgiving meal, as well as enhancing the taste. Plus, in November, Cranberry Spice is our scent of the month, which means it's 25% off.
Warm glow from the firelight will enhance the happy mood of everyone at the table as well. Though a fire is not necessary. Even college students living in dorms where fire is not allowed can enjoy a scented candle – possibly more so than most, because they will likely be homesick for a classic Thanksgiving meal and family members all around.
Soy Candles Last Longer Than Other Candles
Another good reason for giving cranberry spice soy candles as gifts at Thanksgiving is that they can be used throughout the upcoming holiday season. While holiday-scented candles given on Christmas Day are already past their usefulness, a scented soy candle given at Thanksgiving will enjoy more than a month of usefulness. Besides the scent, candles lend themselves very well to holiday decorating. Cranberry spice candles are often red, but at Wick-edly Sent are we do not color our candles. Since they are 100 % soy, we did not want to interrupt and naturalness of the product. Spice endures as one of the key scents of Christmas time, thanks to the proliferation of baked goods everywhere. Cranberry is a favorite at the Christmas feast, as well as finding its way in holiday breads. With a cranberry spice candle burning, anyone nearby will be filled with holiday spirit, even if no delicious foods are baking.