Greetings and Happy August! We hope your summer is going well. In fact, we hope it's awesome! We cannot wait to see or hear from you again and we're happy to introduce you some new items, including our new Scent of the Month.
Scent of the Month or August: Island Hibiscus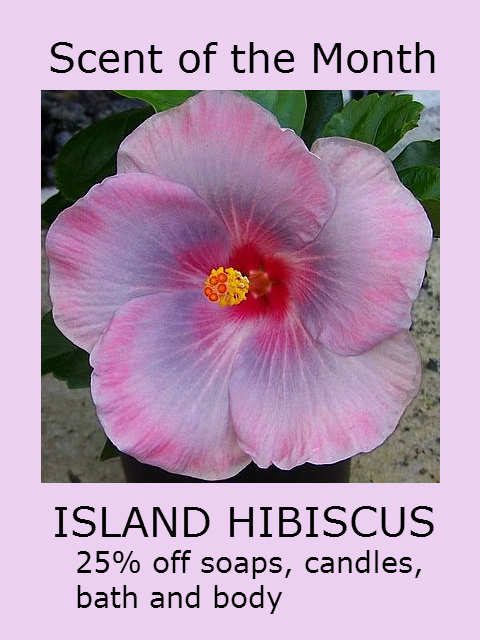 Floral notes of hyacinth, jasmine and gardenia come alive with a hint of light musk and amber; this fragrance is also infused with natural essential oils, including Orange, Patchouli, Violet Leaves, Jasmine, Neroli, Mimosa and Sandalwood.
Olive Oil Soap regular Price $6.50 now $4.88
Hand and Body Wash regular price $9.95 now $7.46
Hand and Body Lotion regular price $9.95 now $7.46
Soy Candle regular price $15.99 now $11.99
Online Coupon: "aug227"
Enter this coupon code, without the quotes, online at checkout or just say it in person to save 10% instantly.  Start shopping now.
Smelly Jellies are Back in Stock
Smelly jelly scented crystals are back in stock, in your favorite scents. Now with artisan decor tops!  Use in replace of candles, anywhere! Great for student dorms, lockers, desks, assisted living, bathroom, kitchens, etc. Can last for months, just re-charge with water when crystals evaporate. Only $10.99
New Wick-edly Soaked Create Your Own Bath Salts
You owe yourself a soak. Our new Wick-edly Soaked bath-salts are ready! Measure our your favorite, and we will add your favorite scent. Made ready for your perfect bath. We have to choose from three selections: European Bath Salts, Bath Fizzie, and Milk Bath. Fill your bag with your favorite scent for only $10.99. Can't make it in the store, call us to order 585-360-7911 yours today.
Join Us for Canandaigua Wine Walk, Saturday, August 3rd, 4-7 pm
Wick-edly Sent Soap and Candle Company is participating in Canandaigua Wine Walk this Saturday, August 7, 4-7 pm. Our featured winery is Point of the Bluff Winery, which is already famous for their dry riesling. Try a sample and sniff some of our new scents.
Free Candle Winner: Marcia Rebmann
Congratulations to Marsha! Please contact us at 585-360-7911 to arrange delivery or in store pick up.
Hope to hear from you soon.
Don
Wick-edly Sent Soap and Candle Company
94 South Main Street
Canandaigua, NY 14424
585-360-7911