Happy Spring everyone.  It is such a splendid time of the year, a time to renew, refresh, and it's a season of hope.  Some scents that are popular include floral such as Lilac, Honeysuckle Jasmine, Gardenia, Sweet Pea, etc.  However, our Facebook fans have declared something else entirely different for our Scent of the Month.
Scent of the Month: Black Raspberry Vanilla
This scent is fruity without being too sweet. The fresh ripe scent of black raspberries are well balanced by a mellow and natural vanilla note, making this a terrific, versatile, all-year fragrance. Shop now and save 25% .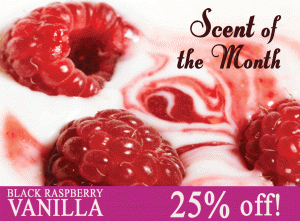 Thanks to all our fans on Facebook for helping us choose the Scent of the Month.
Other news:
Wickedly Yummy Opens at Wick-edly Sent
Wick-edly Sent is proud to share its space with Wickedly Yummy, the newest place for cupcakes!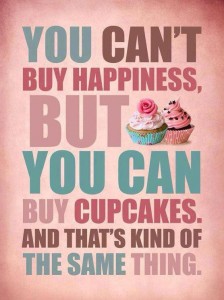 Located in our store on Main Street in Canandaigua, these delicious treats can be enjoyed while shopping, or can be ordered for special occasions.  For more info here is their FB page: https://www.facebook.com/pages/Wickedly-Yummy/102095596651226  Wick-edly Yummy will be having their grand opening this Saturday, April 6th, stop by for prizes and celebrate!  This Saturday is also Canandaigua Wine Walk, so stop by during 4-7 pm to try different Finger Lakes wineries and food.
Online Coupon: "April227"
Enter April Showers in your shopping cart or just say "April227" in person to save 10 % off your purchase.  Not valid with any other specials or Scent of the Month.
Free Candle Winner of the Month: Danielle Delfanio.
Congratulations Danielle!  If this is you, just call us at 585-360-7911 to arrange pick up or delivery for your candle.
Reaching 2000 Fans on Facebook!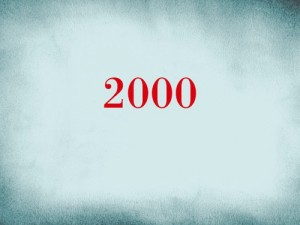 Like us on Facebook to help us celebrate!
Enter a Free Spring Renewal Giveaway from Life Path Spa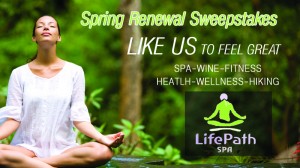 Our friends and neighbors at Life Path Spa is offering a giveaway for Spring.  Life Path is a health and wellness spa retreat located in beautiful Canandaigua, offering the best views.  The spa offers incredible services, meals, hikes and trails, and you can have your own getaway by staying at Bristol Harbour Resort.  All you have to do to enter is like their Facebook page here: https://api-apps.com/app/embed/user/w/sl/148424744619/sweepstakesmobile
Thank you for subscribing, hope to hear from you soon!
Don
Wick-edly Sent Soap and Candle Co.
94 South Main Street
Canandaigua, NY 14424
http://escentedcandle.com
(585) 360-7911