Looking for something special for your sweetie?  Here are some Valentine's Day Gift Ideas from our shop that will surely please the love of your life.  Valentine's Day is Thursday, February 14th.
Bath and Body Gift Basket
Grab a bath and body gift basket for yourself, or the one you love.  This pampering bath and body gift includes natural body wash, body lotion, botanical room and body spray, and a body puff.  The gift basket will be wrapped in cello with a wonderful bow.  Bonus item: Plus for a limited time only, a heart-shaped soap in a decadent scent. Only $35 gift wrapped, you pick the scent order now.
Body Butter
Body Butter
Melts on skin contact, great for massage.  Made without water, just pure butters and oils, this incredible moisturizer is fit for elbows, knees, or any dry patches you may encounter.  Customers swear by our body butter, especially in dry, cold, weather.  A great gift for expectant mothers to prevent stretch marks.
Shea Butter
Cocoa Butter
Grapeseed Oil
Rice Bran Oil
Vitamin E
No parabens to get in the way of natural goodness. $8.99  Order Now
Olive Oil Soap
Soap still makes a great gift for for anytime of the year.  Give the gift of a block of soap, a natural way to show you care.  With so many soaps to choose from, especially our famous soaps geared for men, you can easily grab a few.
$6.50 Order Now
Heart Shaped Olive Oil Soap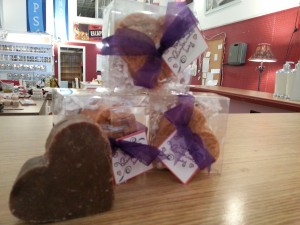 Enjoy a heart shaped olive oil based soap, wrapped with a gift box and bow.
Scents include:
Hot Cocoa
Vineyard Splash
Approximately 4.5 oz $6.50 Order now.
—-
If we are shipping any of these gifts, call us to make sure your gift arrives on time. 585-394-5260