Greetings everyone!  Hope you had a great Fourth, and remember to hydrate yourself this summer.  Also, remember to hydrate your pets as well.  Too often we forget that dogs and even cats drink more water during summer months and even we at Wick-edly Sent sometimes forget to fill Phoebe's water bowl.  Don't worry, she flips the bowl to remind us.  And while you're outside exposing yourself to sunrays, don't forget to sunblock.  Our lip butters are made with cocoa butter and avocado oil, which is a natural SPF! Since it is July, we decided to replicate last year's successful Scent of the Month, as well as the giveaway that corresponded with it.  Why fix when it's not broken, right?  Keep enjoying the summer, and we hope to see you soon.
Win a free basket with our A Day at the Spa scent!  Visit our Facebook page and sign up.  No purchase required.
Scent of the Month: A Day at the Spa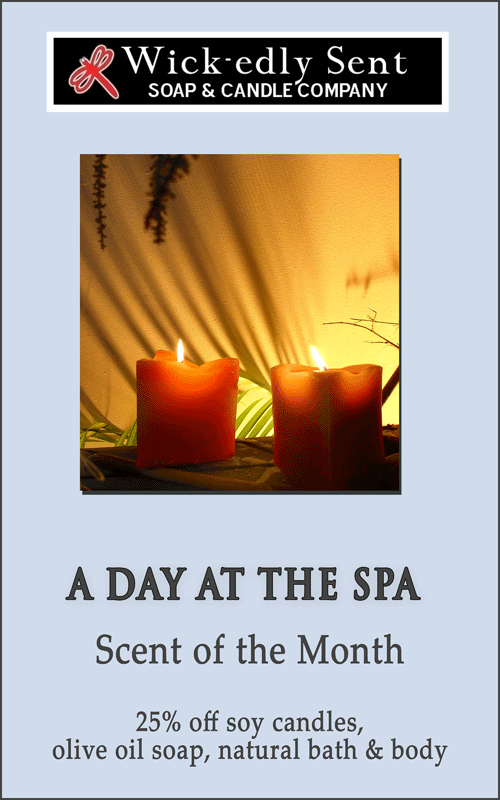 A Day at the Spa is a calm and balanced fragrance that combines notes of lemongrass and black currant with hints of patchouli.  Enjoy a soy candle, olive oil soap, body wash, body lotion, and body spray, all at 25% off.
Free Candle Winner: Mary Kokinda
Congratulations to Mary!  To arrange pick up or delivery, call us at 585-394-5260.
Online Coupon: "July Fireworks":
What's New, Just in the Store:
We have new bug repellent candles that are flying off the shelves, made with lavender, citronella, and peppermint.   A colorful bowl is the vessel, great for the patio at 19.99.  Picture will be uploaded on our Facebook Page soon.
New Summer Spritzers, made with Wick-ed Angel and Coco-Mango Scent!
Just 5.99 or 2 for $10. Limited time only.
For more info on these items, call us at 585-394-5260.
Many thanks to everyone!  Hope to hear from you soon.
Wick-edly Sent Soap and Candle Company