Spring is almost here!  You can feel the anticipation.  And although it's been a mild winter, everyone seems to be ready for more sun.  At Wick-edly Sent Soap and Candle Company we're getting ready with new scents, new products, and we are very optimistic that you'll love us even more.
Scent of the Month: Mango
It's Mango Madness here at Wick-edly Sent.  Enjoy a light, fresh, but tropical scent that will take away your winter blues and bring spring to your door!  We've found that not only women love this scent, but men as well.  It's a favorite for in our body butter, and for the month of March, candles and all bath products in Mango is 25% off.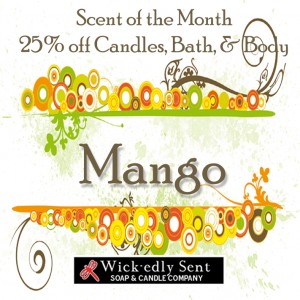 Mango 25% off March 2012 Only!
What's New:
Introducing: New Cake Soaps!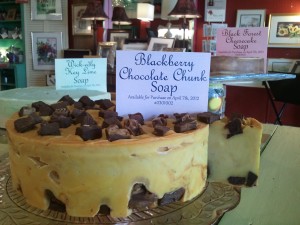 How does a slice of Blackberry Chocolate Chunk cake sound, or maybe Key Lime Pie, or Black Forest?  Well now you can have your cake and wash with it too!  With wonderful natural oils that's good for your body our new cake soap line will have you fulfilling your sweet side and your dirty side at the same time!  They will be ready for purchase in a couple of weeks, but you can order now by calling us at 585-394-5260 or toll free: 1-888-467-WICK
New Scents for Body Butter: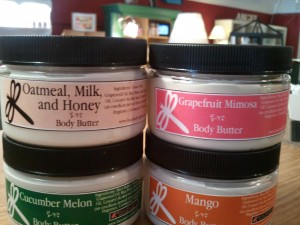 Love our body butter, now you have two more reasons to love it!  For a limited time only, we are introducing Grapefruit Mimosa and Oatmeal Milk and Honey in our luxurious body butter line!  Remember, our body butter is made with no water, concentrated shea and cooca butters,  grapeseed and rice bran oils.   Stop by the store to pick some up or call us to order today.
Free Candle Winner: Nancy Berrish
Congratulations on winning a free Candle, Nancy Berrish. Call us at 585-394-5260 to arrange pick up or free shipping today.
Coupon:
Enter this on our website, or announce it in person to receive 10% off your purchase.
 "IdesofMarch"
Sale or Scent of the Month products not included in this offer.
Thanks, we hope to hear from you soon.
Wick-edly Sent Soap and Candle Company
94 South Main Street
Canandaigua, NY 14424
585-394-5260
http://www.escentedcandle.com
info@escentedcandle.com