October's Newsletter: Scent of the Month 25% off, Free Candle Winner, Coupon
Fall is officially here and the leaves are starting to change. With the change in season come cooler days, clear nights, rustling leaves, and lots of spice. Kitchens are filled with the warm  inviting scents of baked goods and keeping up with tradition, we have brought back our Harvest Pumpkin to warm your home on these crisp autumn days.  This time of year is beautiful in Upstate New York and we are sure you will be out enjoying what the season has to offer.  Make sure to stop in our store and check out all of the fall scents you need to get you in the mood for October.
October Scent of the Month: Harvest Pumpkin
October's Scent of the Month is a yearly favorite around here at Wick-edly Sent.  Harvest Pumpkin is a familiar scent we all grew up with. It's a creamy blend of caramel and gingered pumpkin with vanilla, golden amber and soothing warm cream.
Shop online or come in and visit our store to get Harvest Pumpkin products for you and everyone you know. With 100% soy scented candles, shea butter lotions, olive oil soaps, and other fine products, all at 25% off.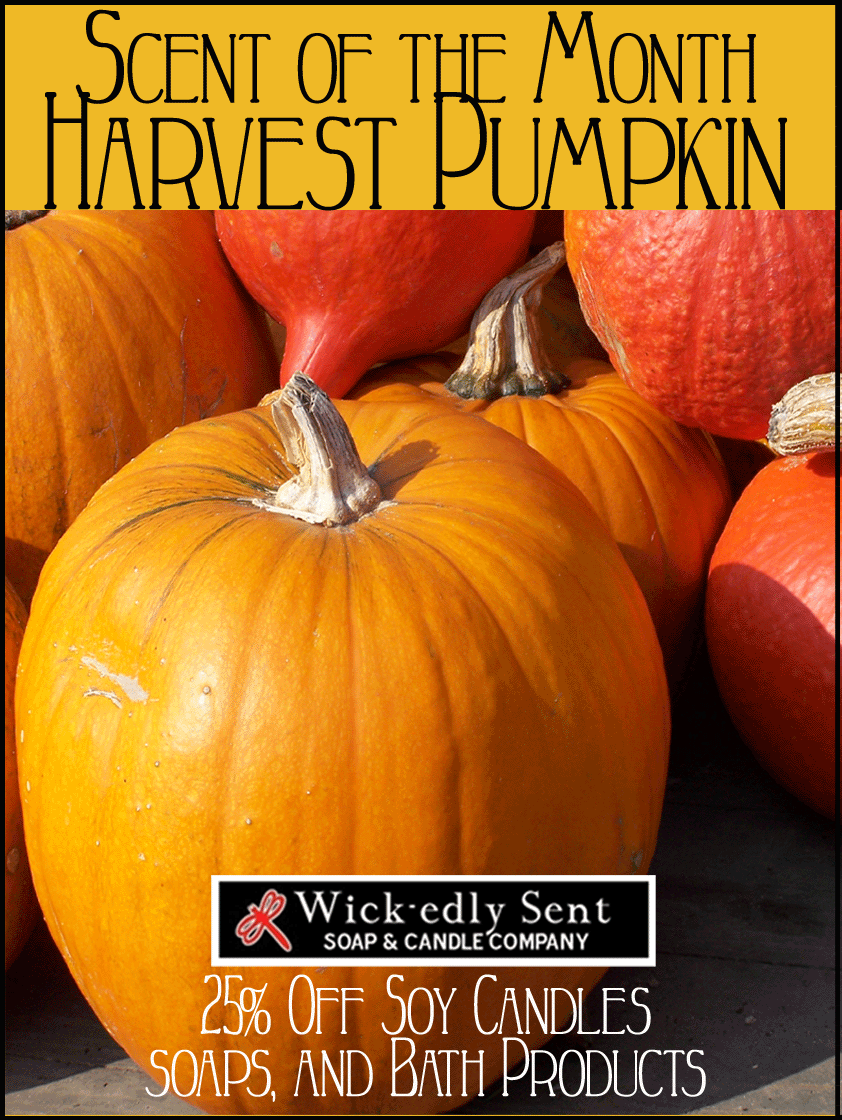 Fall Scents are here!
Come in and rediscover your favorite fall scents like Cranberry Orange, Harvest Pumpkin and Apple Maple Bourbon.  All are sure to get you ready for the crisp air of Autumn.
Free Candle Winner of the Month, Margaret Woods:
Congratulations Margaret!  You won a free soy candle.  Please call us at 585-394-5260 to arrange pick up or free delivery!  Everyone in our mailing list can win, if you joined our mailing list, you're already in our database to win a free candle.
Online Coupon "jackolantern":
Save 10% on your next purchase, in store, by announcing this coupon code, or use it online.
Community News:
Fall Into Canandaigua Festival Will be held on Saturday October 15th from 10am-4pm. There will be live music at the Commons Park which is sponsored by Wickedly Sent, activities for the children,  a variety of fun and free activities including free wagon rides and several merchant and vendor booths lining the sidewalks.

Annual Children's Costume Parade will be held on Saturday October 29th. The children will be able to trick-or-treat at some of the merchants along Main st. Costume prizes will be awarded immediately following the Costume Parade in the Commons Park.
Wine Walk – Don't forget that the first Saturday of every month is Wine Walk from 4pm-7pm. Selected merchants on Main St. host local wineries and food vendors for tastings. Its a fun filled afternoon and only $5! We hope to see YOU next month!
Thanks again, we hope to hear from you soon!
Wick-edly Sent Soap and Candle Company
94 South Main Street
Canandaigua, NY 14424
585-394-5260
http://www.escentedcandle.com