July is Celebration Month!
July is finally here!  While we hope you sport your patriotic colors for the fourth, and remember how truly free we are, there are several more reasons to celebrate.  New York State recently legalized gay marriage, a groundbreaking achievement for many.  Also, more and more troops are coming home, and finally, peace is looking more promising than ever.
At Wick-edly Sent, we have more reasons to Celebrate:
We have become proud members of the National Resource Defense Council
We've introduced the Canandaigua Lake Gift Set Box
Our fans chose "A Day at the Spa" as our scent of the month
In celebration of  A Day at the Spa, we've created a A Day at the Spa Basket giveaway
Scent of the Month: A Day at The Spa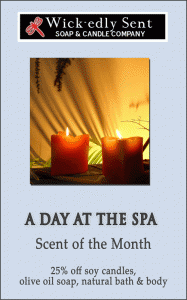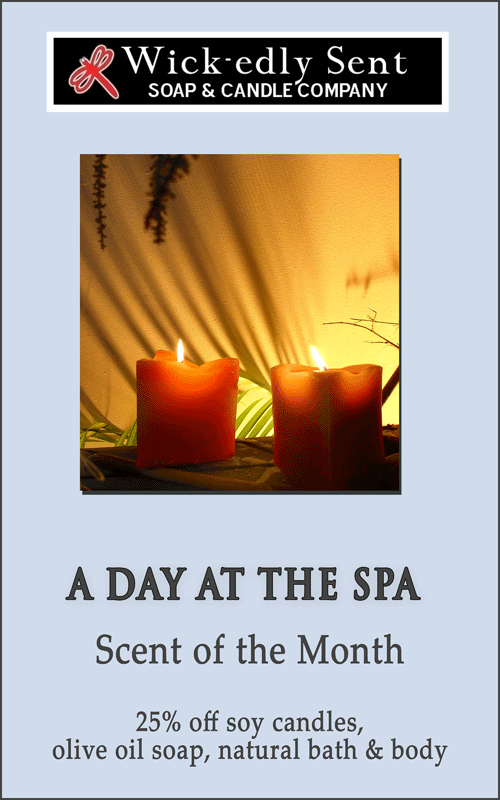 A Day at the Spa  is a mixture of fragrance oils which combine notes of lemongrass and black currant with hints of patchouli and sugar cane and was was voted by our fans as our newest scent. Great for aromatherapy.  Enjoy a 100% soy candle, olive oil soap, natural body wash, body lotion, or a moisturizing body spray with botanical extracts, all for 25% off.   Our Scent of the Month was chosen by our Fans on Facebook.  To help us choose your next scent of the month, become a fan at http://www.facebook.com/soapandcandles
A Day at the Spa Basket Giveaway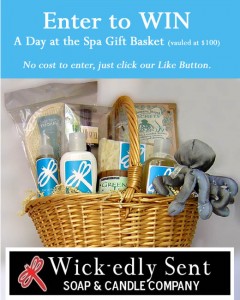 This gift basket valued at $100 contains:
Willow basket with handles
Green Tea Spa Reed Diffuser Gift Set
A Day at the Spa Body Lotion with Shea Butter and Olive Oil
A Day at the Spa Body Wash with Shea Butter and Olive Oil
A Day at the Spa Olive Oil Soap (7 oz huge bar)
A Day at the Spa Body Spray with Botanicals
A tub of Green Sencha Tea
Relaxing Eye Mask
Vanilla Cinnamon Soy Candle in a tin
Relaxing Bath Salts
Shimmering Octopus shaped lavender sachet
Sisal Terry Exfoliating Mitt
No cost to enter, Go to: http://www.facebook.com/soapandcandles?v=app_121121694568521 to enter.
Giveaway ends July 31, 2011.  This is when one winner will be hand picked.
Free Candle Winner of the Month, Heather Trinchini:
Congratulations Heather!  You won a free soy candle.  Please call us at 585-394-5260 to arrange pick up or free delivery!  Everyone in our mailing list can win, if you joined our mailing list, you're already in our database to win a free candle.
Online Coupon "julyfireworks":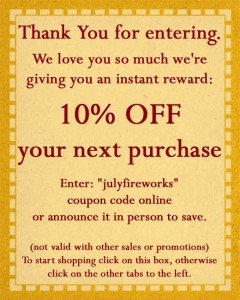 Save 10% on your next purchase, in store by announcing this coupon code, or use it online.
Other News:
A new awning for Wick-edly Sent!  We are sporting a new red awning with scallops.  The red brings out the dragonfly, which has always been part of our logo.
We recently hosted a cast party for Bristol Valley Theater that is located in Naples, NY.  The 2011 summer cast is amazing!  We are proud sponsors and hope to see you there.  Check out their upcoming shows.
Community News:
Once again, Wick-edly Sent will be participating in Canandaigua Wine Walk, Saturday, July 2nd, 4-7 p.m.  We will have snack goodies from Nolan's on the Lake restaurant. So stop by and enjoy Finger Lakes Wine tastings, and food samples.
Canandaigua Art and Music Festival is on its way, Friday July 15 – Sunday July 17th
Sidewalk Sale Days are planned Thursday July 21 – Saturday July 23rd
Thanks again, we hope to hear from you soon!
Wick-edly Sent Soap and Candle Company
94 South Main Street
Canandaigua, NY 14424
585-394-5260
http://www.escentedcandle.com