Summer is Here!!
Whats on everyones mind this time of year? Sunshine, warm days and spending time on the water. Whether your a boater or a beach bum, our new Scent of the Month was created just for you! Beach Linen is a fresh,airy fragrance that will pair perfectly with the kick off to your summer!
Visit us in our shop or online to snag some Natural Body Wash, Olive and Shea Body Lotion,Olive Oil Soap or Scented Soy Candles.
Summer Best Sellers:
Summer is finally here and with it the sunshine and outdoors! Wick-edly Sent has products perfect for this time of year. The lip balm has a variety of summer time scents like Pina Colada and contain avocado oil and vitamin E, both of which are natural SPF. The Wick-edly Bugged Insect repellent spray is a natural, and better smelling, way to deter those pesky mosquitoes during your next evening campfire. There are many other summer best sellers located on our Facebook page.
http://www.facebook.com/soapandcandles?v=app_113298085356151
Deal Share: Man Soap Trio Pack for 50% off
We have a great deal for the man in your life. Just in time for Father's Day, or any man, we've brought an incredible deal. The natural soap trio pack includes homemade Beer soap, Wildman, and Bay Rum; our three most popular soaps for the men in your life. The individual price for each of these 7oz soaps are $6.50. With the deal share discount you receive all three soaps for the outstanding price of $9.75!! That is a 50% off savings and we need 24 participants to activate this great deal share. Ends June 14th so hurry and participate. Click the link below and share this deal with your friends!  Visit here to find out more: http://www.facebook.com/soapandcandles?sk=app_166163243398289
Scent of the Month: Beach Linen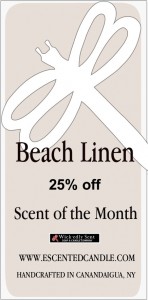 For June, our Facebook fans chose our Scent of the Month, Beach Linen. This airy, fresh scent is paired with herbal and floral notes of clean cotton. This scent truly captures the scent of line dried clothes blowing the ocean breeze. All Beach Linen products, including the bath & body line and 100% natural soy scented candles, will all be 25% off for the whole month of June and are available either online or in our store.
http://escentedcandle.com/products-page/scent-of-the-month/
Candle Winner of the Month: Tonya Mersinger
Congratulations Tonya on winning a free Candle! Call us at 585-394-5260 to arrange pick up or free shipping today.
Places to Buy Wick-edly Sent
Besides our store and online you can find Wick-edly Sent products at a number of places nationwide.  We have over 20 new locations that currently carry our products!
Stores are currently being updated, for a complete listing click here.
Coupon: "Junebug"
Enter this on our website, or announce it in person to receive 10% off your purchase.
*Sale items or Scent of the Month products not included in this offer.
Become our Facebook Fan

We've reached over 1,000 fans on Facebook!  Not a fan yet, Like our page at http://www.facebook.com/soapandcandles
You'll receive special promotions and notifications.
Hope to see or hear from you soon,
Angie,
Wick-edly Sent Soap and Candle Company
94 South Main Street
Canandaigua, NY 14424
585-394-5260
New Summer hours: 10 am to 7 p.m. Monday thru Saturday
Sunday Noon to 4 p.m.
Online anytime at http://www.escentedcandle.com