Hello friends!  If you are anything like us you are feeling the Spring Fever right about now.  We may still have snow on the ground here in Canandaigua, but wishful thinking is our state of mind.  We have a new scent this month to brighten your mood while waiting for the flowers to bloom and the leaves to return.  Come into Wick-edly Sent or shop online to grab some springtime Hydrangea in our Olive and Shea Body Lotion, Natural Body Wash, Moisturizing Body Spray, Olive Oil Soap or 100% Soy Candles.
Scent of the Month: Hydrangea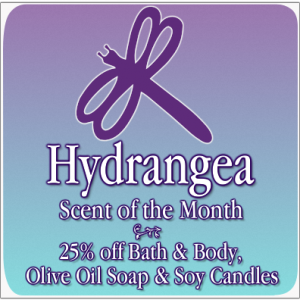 March's Scent of the Month is a favorite here at Wick-edly Sent. This fragrance is a light and airy floral perfect for Spring!  Shop online or our store to get Hydrangea products for you and everyone you know. With 100% soy scented candles, shea butter lotions, olive oil soaps, and other fine products, all at 25% off.
New: Special Occasion Soy Candles!
We have come out with a new candle line, 100% Natural Soy Candles for Birthdays, New Baby, New Home and Weddings. All four types of Special Occasion Candles come in a clear box with decorative ribbon perfect for quick and easy gift giving.
Bath Cupcakes Are Still Here!
Our new Fizzing Bath Cupcakes were such a hit around here that we're keeping them all year round! Bath Cupcakes are great for Birthdays, just because, love you, thinking about you or for yourself! Just drop them in your bath and watch them fizz! Naturally made with Shea Butter and Grapeseed Oil to moisturize and relax.
Places to Buy Wick-edly Sent
Besides our store and online you can find Wick-edly Sent products at a number of places nationwide.
Some of the new places are Roses in the Hedgegrow and The Spice Shop in the Dansville Hospital!   For a complete listing click here.
Free Candle Winner: Linda Roche
Congratulations on winning a free Candle. Call us at 585-394-5260 to arrange pick up or free shipping today.
Coupon: springfever
Enter this on our website, or announce it in person to receive 10% off your purchase. Sale or Scent of the Month products not included in this offer.
What's New:
Fizzing Bath Cupcakes.
Coming Soon: Country Line Soy Candles and Culinary Collection.
Coming Soon: Our Flared Jars for Soy Candles are back!
Become our Facebook Fan
We've reached over 1,000 fans on Facebook!  Not a fan yet, Like our page at http://www.facebook.com/soapandcandles
You'll receive special promotions and notifications.
Hope to see or hear from you soon,
Don
Wick-edly Sent Soap and Candle Company
94 South Main Street
Canandaigua, NY 14424
585-394-5260
http://www.escentedcandle.com
info@escentedcandle.com