Hello friends!  The New Year has arrived!  In 2011 make sure one of your New Year's Resolutions is to take care of yourself with naturally based soaps, washes, and lotions.  Burning a clean soy candle ensures better living with peace of mind.  We have many great products to keep yourself pampered and feeling good.  If spring can't come soon enough for you, we always have fresh Lilac products to keep you happy.  If winter is more your season, snuggle up next to a Peppermint Eucalyptus Soy Candle.  Whatever your plans this year, make sure to stop in our shop or check us online to see what we have in store for 2011.
Scent of the Month: Peppermint Eucalyptus
January's Scent of the Month is a winter tradition at Wick-edly Sent.  Made with real essential oils, this invigorating scent will help with energy, and help promote cold and sinus relief.  Peppermint is great for headache and migraines too.  Shop online or our store to get Peppermint Eucalyptus products for you and everyone you know. With 100% soy scented candles, shea butter lotions, olive oil soaps, and other fine products, all at 25% off.
Winter Dry Skin, No More!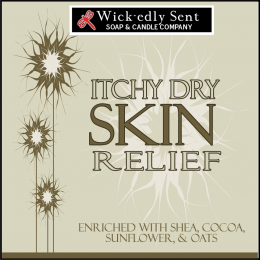 We are stocking up on our Itchy Dry Skin Body Lotion for the long winter.  Itchy dry skin giving you the blues?  Stop scratching your itchy dry skin and help keep it moisturized while you calm down that itch.  This formulated lotion is enriched to help your skin during the coldest months.  Made with shea butter, cocoa butter, sunflower and oats!
Places to Buy Wick-edly Sent
Besides our store and online you can find Wick-edly Sent products at a number of places nationwide.
Some of the new places are Talulah's Fancy and Simply New York!   For a complete listing click here.
Free Candle Winner: Carol Dillon
Congratulations on winning a free Candle. Call us at 585-394-5260 to arrange pick up or free shipping today.
Coupon: newyearcheer
Enter this on our website, or announce it in person to receive 10% off your purchase. Sale or Scent of the Month products not included in this offer.
What's New:
Valentine's Day gifts, check the website soon!
In the works: massage oil candles
Bath bombs available soon online!
Become our Facebook Fan
We've reached over 1,000 fans on Facebook!  Not a fan yet, Like our page at http://www.facebook.com/soapandcandles
You'll receive special promotions and notifications.
Hope to see or hear from you soon,
Don
Wick-edly Sent Soap and Candle Company
94 South Main Street
Canandaigua, NY 14424
585-394-5260
http://www.escentedcandle.com
info@escentedcandle.com