Hello friends! June has come and go so quickly and now it's time for outdoor BBQs, fireworks, swimming and campfires. Get outside, take a walk down Main Street and see what July has to offer.
Scent of the Month
July's new Scent of the Month is sure to put you in the mood for hot weather. Mango is an exotic fruit sensation. Whether you get to go on a tropical vacation this summer or not, Mango is sure to take you to the crystal clear beaches of the Caribbean with an icy cold drink in your hand. Mango is available only in the summer so make sure to get yours fast!
Shop online or come in and visit our store to get Mango products for you and everyone you know. With 100% soy candles, shea butter lotions, olive oil soaps, and other fine products, all at 25% off.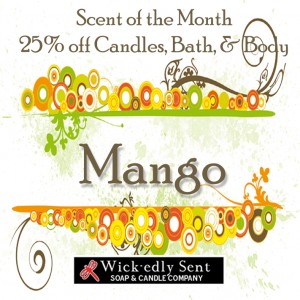 Art and Music Festival in Downtown Canandaigua!
The Best Festival around for Art and Music, the Canandaigua Art and Music Festival proves to bring in a crowd! Keep the date: Friday, July 16-Sunday, July 18th! Sign Up for our Newsletter to Keep informed of events and happenings! New hours for the 2010 Festival: Friday, 12pm – 8pm, Saturday & Sunday, 10am – 6pm. For more info and to sign up for a booth, or your band, visit www.canandaiguaartfestival.comand read the blog at http://canandaiguaartandmusicfestival.wordpress.com/
New Summer Scents and Gift Sets
We now have three new scents available only in the summer.  Mango, Summer Melon and Lime Mint are fresh and bright, perfect for any summer occasion.  Because of these great new scents we have Gift Sets for a limited time only.  Pick either Mango, Summer Melon or Lime Mint and you get a Body Lotion, Body Wash and Body Spray for the low price of $25!
Free Candle Winner: Cindy Wade
Congratulations on winning a free Candle. Call us at 585-394-5260 to arrange pick up or free shipping today.
Coupon: julyfireworks
Enter this on our website, or announce it in person to receive 10% off your purchase. Sale or Scent of the Month products not included in this offer.
What's New:
Soy Candle Tins which you can include in our 3 for $10 deal.  Combine Soy Candles with Olive Oil Soaps or Bath Salts.
Smelly Jellies are back!
Wick-edly Bugged Natural Insect Repellent Spray is back!  Ward off those pesky mosquitos with the power of lavender, peppermint, and citronella essential oils.
Hope to see or hear from you soon,
Don
Wick-edly Sent Soap and Candle Company
94 South Main Street
Canandaigua, NY 14424
585-394-5260
http://www.escentedcandle.com
info@escentedcandle.com