It's already March!  Winter is almost over and for some areas of the globe our fans are seeing Spring.  At Wick-edly Sent Soap and Candle Company a lot is happening (hence the lack of posts from our blog), and we are all gearing up.  For those who haven't heard, we lost a member of our family.  Madison, our dog who was 15 years old passed away.  It was hard on us, staff, and all our friends and customers.  But he was an old happy dog, and we believe he is in no more pain, and in a  better place.
At the store we are seeing an increase of people bringing back their empty candle jars.  In case people didn't know, we recycle them, and offer a discount if you replace it and buy another soy candle.  It's amazing how many jars people bring in at a time!  Recycling is part of our effort of Going Green.  For more info on what else we do, and some tips on how easy it can be for you visit our Wick-edly Sent Goes Green Page.
What's New: New Effusion Lamps and Scents!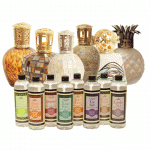 New Effusion Lamps scent your room in a different way.  The stone works two ways, it purifies the air by removing odor and/or smoke, and releases the scent that you choose.  The lamps come in many different shapes and sizes are truly beautiful.  We have two pages of different lamps and the scents on our Effusion Lamp Products Page.  Some of our favorite scents are Cranberry Orange, Lavender, and Pomegranate Spice.
Scent of the Month: Clean Laundry
Enjoy 25% off all our natural hand made products.  Our Clean Laundry scent is fresh with peonies, ocean and fresh air.  Light this candle and take yourself away to a beautiful spring day with newly blooming flowers and a warm breeze in the air.  Available in soy candle, olive oil soap, body lotion, body wash, and linen and room spray that works as a body spray.  Click here see our products with Clean Laundry.
Online Coupon: "thinkspring"
Save 20% off in the month of March with our coupon.  Just announce "Think Spring" when you are buying in person, or enter "thinkspring" without quotes and spaces on our online shopping cart to save 20% off!  Not valid for Scent of the Month, which is already 25% off.
Free Candle Winner: Tina Henningson
Congratulations to Tina Henningson, who has won a free soy candle from us.  Call us Tina to arrange pick up or free delivery at 1-888-467-WICK (9425)  Everyone who is on our mailing list is already entered for our Free Candle Winner Contest, but if you're not, visit our home page at Wick-edly Sent Scented Candles (http://www.escentedcandle.com) and sign up.  Form is to the right near the bottom.