The lucious mango has been cultivated on the South Asian continent for thousands of years.  It became popular with travelers to the region because of its sweet and unique flavor and it was soon planted throughout East Asia, East Africa, Brazil, the West Indies and Mexico.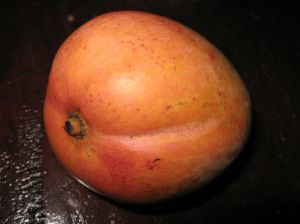 Today, the mango is raised in many areas of the world that have frost-free tropical climates.  Lovers of the mango need not feel guilty eating it because the mango has been proclaimed a "superfruit" due of its high levels of antioxidants and other properties that contribute to health.
Bite into a ripe sweet juicy mango and you immediately think of summer!  That's why Wick-edly Sent has chosen Mango as June's Scent of the Month.
We have lots of delightful products with the rich aroma of Mango!
Mango Body Butter – This best-seller is one of our strongest moisturizers.  We whip the butter and infuse it with vitamin E, rice bran and grapeseed oil for a smooth lucious feel.  Our Mango Body Butter is great for psoriasis, eczema and dry skin.
Mango Scented Soy Candles – If you light one of these scented soy candles, the room will be laced with the divine scent of mango.
All Natural Bath and Body Products – Step out of the bath after using our mango scented body wash and body lotion with shea butter and you'll feel as if you've been pampered in the summery tropics!
Mango-scented Olive Oil Soap – Last but not least, our olive oil soap combines a luxurious moisturizing effect, antioxidant benefits and the delightful scent of a mango summer.
Don't forget that all Wick-edly Sent products in the Mango Scent of the Month are available at 25% off regular retail price.  Don't miss your chance to stock up on this summer favorite now!