We don't know too many people who don't love to see and smell the beautiful hydrangea.  We call it the "Queen of the Springtime Garden."  This lovely flower comes into bloom in the spring and ranges in color from white to pink to magenta and from pale blue to lavender to deep periwinkle.  The ball-like shape of its blooms and the stalkiness of its stems make it one of the most distinctive flowers in the garden.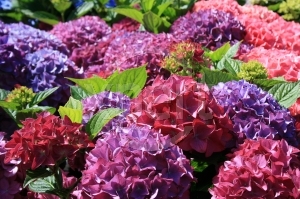 To celebrate its appearance in gardens across  the Finger Lakes, Wick-edly Sent has introduced hydrangea as a limited edition scent for spring.
Throughout the spring season we will be offering our all natural bath and body products and our olive oil soap in the hydrangea scent.  We will also have our scented soy candles available in hydrangea to fill your rooms with the delightful aroma of one of the floral queens of the spring garden.  If you wish you could carry the scent of hydrangea around with you, you'll love Wick-edly Sent's Hydrangea perfume!
And just as a reminder, if you like hydrangea and other floral scents, for May, our Scent of the Month is Lilac.  You can enjoy our bath oils and body lotions, our olive oil soap and our scented soy candles in the lilac scent at 25% off the regular price.
All of our products are hand-made at our store in beautiful downtown Canandaigua and are made of all-natural products.