On April 30th, Wick-edly Sent is delighted to host  its 4th Annual Girls Night Out, the proceeds of which will go to support the not-for-profit organization, Sojourner House.
We chose the Sojourner House as the beneficiary of Girls Night Out because of the importance of its mission, which supports women and children in need.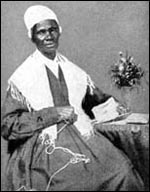 Soujourner House was named after Sojourner Truth.  Sojourner was born a slave named Isabella Baumfee and, after many years of slavery and abuse, she proclaimed her freedom, took the name Sojourner Truth and became a passionate abolitionist and advocate for the dispossed in society.
Sojourner House came about in 1982, when Nancy Watson Dean, Nancy's daughter-in-law Virginia Fairchild, and a group of activists raised money to lease and refurbish a funeral home on East Avenue.  They named the building Sojourner House after Sojourner Truth.
Its mission was to help women and children in need.  After a fire destroyed the interior in 1987, money was raised to reopen in the former convent at St. Monica's Church.  The move tripled the number of women and children that could be served by the organization's transitional housing program.
Since its move to Rochester's 19th Ward, Sojourner House has expanded, adding Monica Place, Fairchild Place and Nancy Dean Watson Place.  In addition to Sojourner House's transitional program of 3 to 6 months of housing assistance, these three new facilities offer 40 apartment complex units of affordable housing for women and children who are able to benefit from onsite case management and the organization's support services.
Since its inception in 1982, Sojourner house has assisted more than 2,000 women build more healthy, productive and happier lives for themselves and their families.
Wickedly Sent is proud to support the important work of Sojourner House in their mission to advance the work of Sojourner Truth.
If you would like to find out more about the Client Profile and Success of Sojourner House, or you would like to explore how you can help, CLICK HERE.