"Sweet April showers do spring May flowers" was written by Thomas Tusser, an English poet and farmer who lived between 1524 and 1580.  Today, we shorten it to "April showers bring May flowers." Anyone who loves flowers and gardening welcomes April's showers to prepare the ground for planting, which explains why April would be selected as National Gardening Month.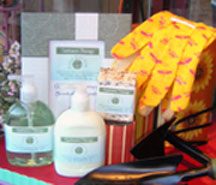 At Wickedly Sent, we created Gardener's Therapy, a special Scent of the Month for April, to celebrate National Gardening Month, as well as all of the gardeners and gardening clubs that add beauty to the landscape.
Think of the fragrant scents of early garden blooms – relaxing lavender, fresh white thyme and sweet geranium – and your mind will conjure the scent of Gardener's Therapy.  We weave the scents of these essential oils together to create a bouquet of products that includes scented soy candles, natural hand wash, silky hand lotion and luxurious olive oil soap.
If you're looking for a lovely gift for Easter or Passover, or you're searching for a special present for a friend who's a gardener, treat her to a Wickedly Sent Gardener's Therapy Basket, which comes with a Scented Soy Candle, Hand Lotion, Hand Wash, and Olive Oil Soap in the Gardner's Therapy Scent of the Month.  Not only will she be transported to her garden, but you'll also be giving a gift that will soothe her tired hands and revitalize her senses once she's done gardening!
During the month of April, all of our Gardeners Therapy products may be purchased for the special discounted price of 25% off retail price.
As with all our products, Gardeners Therapy Soap and Candles are made from all natural ingredients, tested on friends, not animals, and carefully created in Canandaigua, NY.
Here's to next month's flowers!