Did you know that there are more than 90 different essential oils that can be used in aromatherapy?
Essential oils are used for aromatherapy and are different than fragrance oils because they are all-natural and come from plants.  This gives them holistic properties that bring about psychological and physical well-being.  When inhaled, these oils stimulate the brain and and can provide therapeutic benefits to the lungs.  Believers in aromatherapy also find they bring about a sense of connection with nature, happiness and comfort.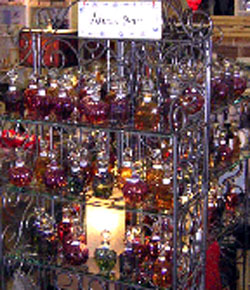 True aromatherapy uses all-natural ingrediets.  Because aromatherapy is not regulated in this country, you should beware of buying aromatherapy products from unknown sources because, while they might include essential oils, the oils may be combined with or suspended in synthetic products.  When buying from unknown sources, be sure the label says "Made with Natural Ingredients."
Here at Wickedly Sent, we use no synthetics in the creation of our aromatherapy candles or relief balms. In addition to these items, we also offer a wide variety of essential oils that can be used for healing and relaxation but also for a wide variety of other uses.   For example, if insects are attracted to you, try a touch of citronella, lavendar or peppermint to repel them naturally.
In addition to our products and oils, if you visit the store, we offer an aroma bar where you can custom design a signature scent in lotion, body wash, body spray, massage oil or essential oil.  With 70 different scents, the possibililities are limitless!  And if you're looking for a fun idea for a party, how about an aroma bar party?  They're very popular for batchelorette parties, birthday bashes or a special girls' night on the town.
Please stop in and see us so we can introduce you to the magic of aromatherapy!  We're located at 94 South Main Street in Canandaigua, NY – the heart of the Finger Lakes!