Scented Candles by Wick-edly Sent
Scented candles are hand poured with 100% soy wax. Wick-edly Sent's scented soy candles burn cleaner, are scented with high quality fragrance oils or essential oils, and smell great. Some scented candles are stronger than others, depending on the fragrance itself.  Example:  White Tea Soy Candles are lighter than our Vanilla Scented Candles.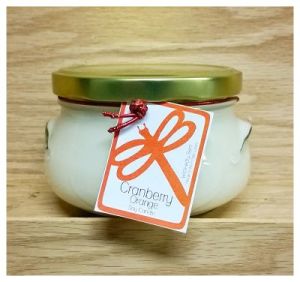 Scented Soy Candles Now Leading Wax In Scented Candles
Scented soy candles have revolutionized the candle industry forever, making it an easy choice for smart candle buyers. We use 100%  soy wax for our jar candles. The more you burn our scented candles the more you'll see the difference. The top three reasons to burn soy wax scented candles are:
Soy candles burn cleaner, less black soot
It's better for the environment
Burns longer
We also use a lead-free, low smoke zinc wick that ensures a clean burn that will satisfy even the most difficult candle enthusiast.  These make great gifts for anyone. Scents are tested to make sure they work well with soy because there has to be a great harmony. Not all scented oils work well with candles. We have several different scents to choose from. Mixing scents are something we love doing, however, we never forget classic scents that have been favorites for generations.  We recommend different scented candles for different rooms.  Classic best sellers include Lavender Scented Candles, which are great for living room.  Floral scents such as Lilac Soy Candles are great for bedrooms, and bathrooms.  Sandalwood Soy Candles work great in a living room, and Lemon Zest is fresh for your kitchen.
Scent of the Month: Lilac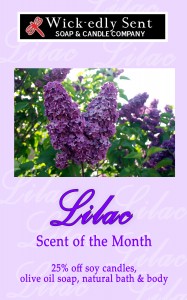 Save 25% off our best selling floral spring scent.
Wholesale
Interested in carrying our products in your shop?
Contact us
or if you are already a wholesaler log in to place an order.
Log In
Fundraising
Sell Wick-edly Sent for your next fundraiser and get up to 40% for your cause. Start
Wick-edly Sent+Welcome May! It's hard to believe May is already here. The change of seasons is celebrated here in the Finger Lakes, and May, we have an extra reason to celebrate. May is Lilac month! People in the Finger Lakes area are Lilac crazy, and for good reason. This...
Wick-edly Sent+Welcome Spring! What a wonderful time of year, especially in the east coast, where we are happily seeing the snow melt. During the winter, creating products become a challenge. Weather always plays a factor in creating our product. Temperature, dampness, and humidity...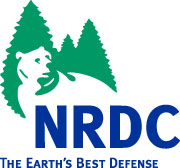 Using sustainable materials and supporting organizations that fight to protect our environment are important in the quest for a greener society. Here at 
Wick-edly Sent
 we are doing just that with our recent 
membership
 and charitable donation to the
 Natural Resources Defense Council.
Google+
Wick-edly Sent offers natural products without sulfates, parabens, gentle to our bodies and the environment. We are proud to hand pour all our
scented soy candles
. We offer top rated clean burning scented candles.